Frequently Asked Questions
I want to place an online order for the first time
Q: How do I create an account?


A: Follow these instructions to create an account.
Please click the link below for instructions on how to create an online account

Click register
Complete the user account registration form

Validate your account by activating the link sent to your registered email address
Q: I forgot my password/username, how can I retrieve it?


A: Click sign in then click forgot password.
Email address: Make sure the email you enter is the email you used to create the account. (If any other email is used, an email will not be sent and you will be unable to reset the password.)
User name: Your user name is the email address you used to create your account.
TIP: Make a note of the email address you use to register.
---
Q: I don't have a customer number. Can I start shopping?


A: Yes.
First, please register and request a customer number.
You will have access to the store as soon as you click the activation link you receive in your email inbox.

After registration, customer service will confirm account details and provide you with an account number.

In order to view pricing, you will need to register and obtain a customer number (within 48 hours).

Once you receive the registration confirmation email with your Ormco account number, any items placed in the cart displays with your personalized pricing
---
Q: How do I see my pricing in the store?


A: Register for an account
After receiving confirmation that your registration is complete, sign into the store

Select the item(s), you wish to see prices for, and add them to your shopping cart

Click view cart to see your discounted prices for the items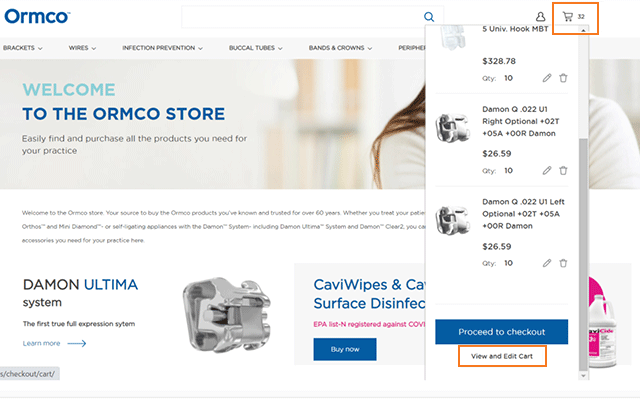 Q: Can I pay using my Ormco Loyalty Rewards Points


A: No
Order Process
Q: What is the status of my order?

A: You can find the status of your order under my account:
Click the orders tab to view the status of your orders

Filter the status of your orders

Status overview of all your orders
---
Q:
How will I know my product is on backorder?
A: You can see the status of your order under my account > orders, you can filter your order history by status.
Status Legend:
Being processed – processing order
Completed – order approved
Not delivered - order to be shipped or shipment in progress
Open – order under review
---
Q: Can I change my order?


A: If you decide to change your order after submission, kindly call customer service immediately:
1-800-854-1741
---
Q: What if I do not confirm my order or complete the checkout process?
A: If you do not complete the checkout process, your order will not be submitted.
Tip: Your product selections will remain in the cart until checkout completion or when you clear your cookies/cache.
---
Q: How do I know I have finished placing my order?
A: A confirmation page will appear with your order number: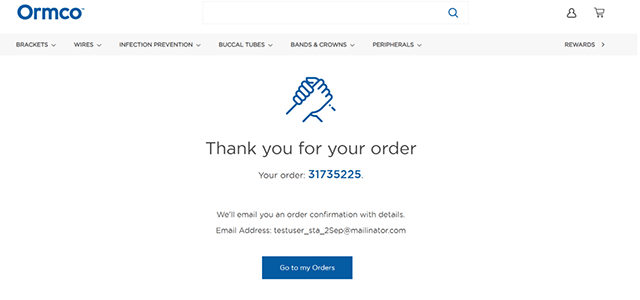 After, you will receive an email confirmation with your order number: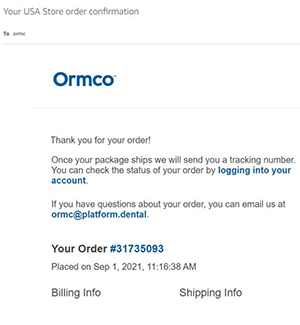 ---
Q:
Can I save my ordering information and use it to create future orders?
A: You have the option to re-order previous items. Under my account, click the orders tab and re-order any past orders.
You can also save frequently ordered items under my favorites.
Use the reorder option:
---
Q: Can I add items to my cart using multiple my favorite items?


A: Yes. You can add one favorite item or all favorite items to your cart: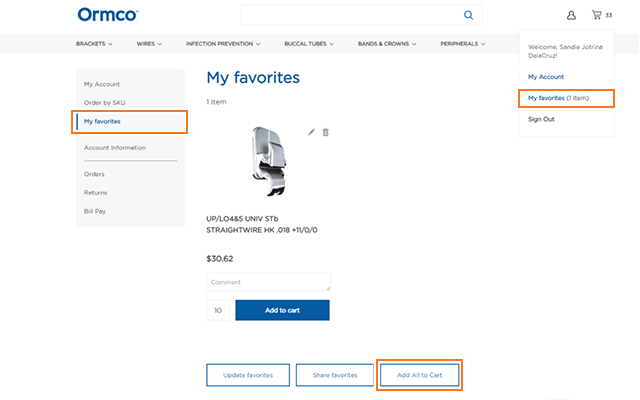 Q: Do you offer fast shipping?

A: Shipping occurs after order fulfillment or processing. To learn more: read "status of my order" under the ordering FAQ tab.
US shipping methods:
3 options: UPS Ground, UPS 2nd Day, UPS 10:30.
Canada shipping method:
Option: FedEx IPD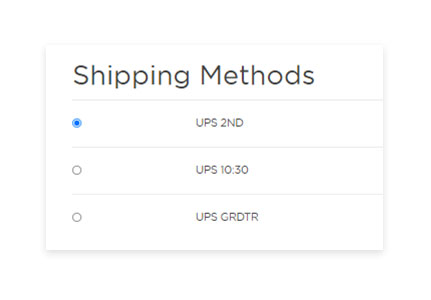 ---
Q: I want to use a different address for a single order. How do I do that?

A: You can select the desired address by clicking check out and change the shipping address. Select the desired address from the list and click ship here.
After changing the address, your shipping price will be recalculated. Prices may vary based on the shipping address.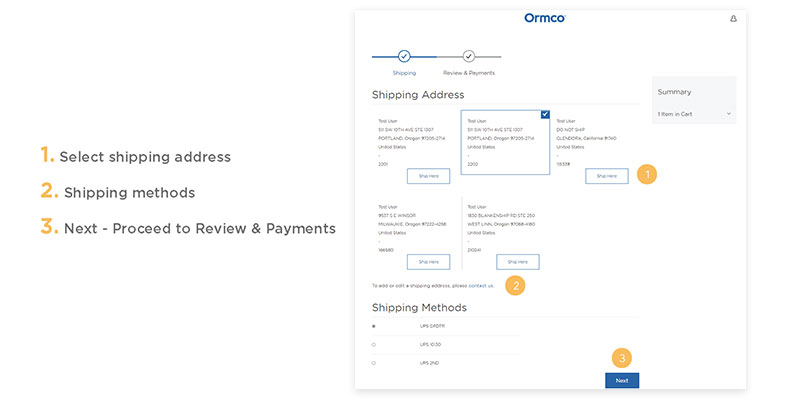 ---
Q: How can I track my package?


A: You can track your shipments via my account. Click the orders tab, and under view, you will have access to the tracking number of your orders.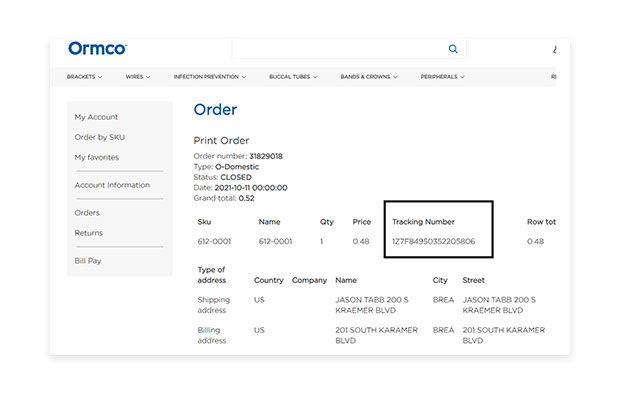 ---
Q: I need to use a billing/shipping address that Ormco does not have on file. How do I do that?
A: You cannot enter a new address during the checkout process. You can use the Contact Form under my account > account information.
To update your account information or add a shipping address, please contact our customer care team. Once the changes have been verified, you will find the updated information in my account.
Contact:
Ormco USA / Canada Customer Care
1-800-854-1741
OrmcoCustCare@ormco.com
Q: What payment methods do you accept?
A: Ormco accepts two payment methods.
You can pay by invoice,

you will receive a bill based on your standard terms

You can pay by credit card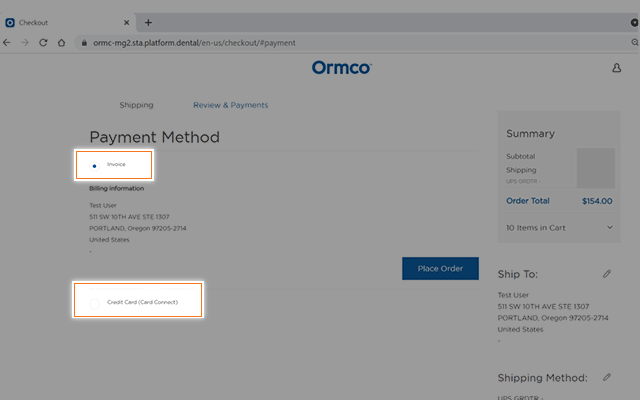 ---
Q: In which currency will I be charged?
A: The currency is based on the store of your choice, either USA or Canada.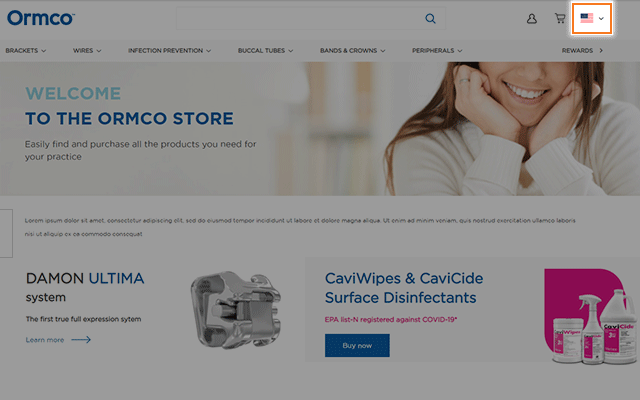 Q: Do you accept returns?
A: You can request a return, but this will be evaluated by Ormco's customer service team based on Ormco's Terms & Conditions of Sale.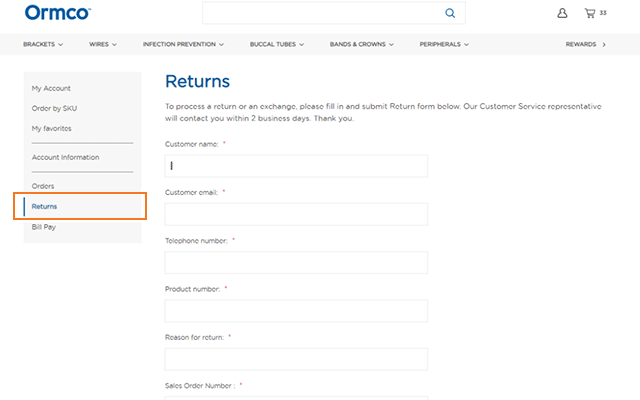 Open the how-to PDF guide here.